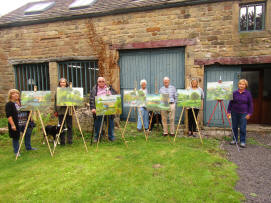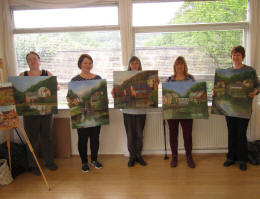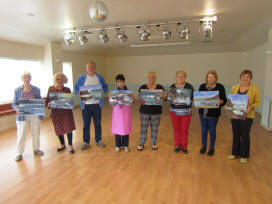 Workshops throughout Derbyshire hold at Tansley, Cromford, Youlgreave and Monyash
I run beginners and continuation one day oil painting and watercolour Day workshops, theses are hold at Ashbourne, Youlgreave, Monyash and Tansley In the Derbyshire Dales throughout 2021, they will cost £60, for a full days tuition with all materials and a buffet lunch as part of the price.
50% deposit that must be paid before the workshop None refundable when less than a months notice is given that your unable to attend.
All of my demos and workshops will resume from April 2021
Tansley parish hall outdoor watercolours workshop 2021 dates
Saturday full day workshop.. Saturday 24th April and Saturday 26th June 2021
Weather permitting i will take the group out to Lumsdale falls to do some preliminary watercolour sketches before returning to the community hall to create a full size watercolour based on these sketches. We will be looking at washes negative and positive work and lost and found. the £60 price includes all materials lunch and cake...
New Creative Drawing workshops for 2021
Creative Drawing Workshops at Selston Tin Hat Centre Life drawing workshop dates to be announced.
Youlgeave Village Hall and Monyash Village Hall oil day workshop 2021
Single day out door oil workshops at Youlgreave Village Hall on the 3rd July 2021 and Monyash Village hall on the 3rd June £60 for the day, all materials and lunch provided
Alison House Cromford two day oil workshop May 2021
The workshop is on Wednesday and Thursday 12th September and 13th May 2021 must be two days only, and will include outdoor painting an studio painting...cost will be £160, accommodation at a very discounted price at Alison House can be arranged. a £80 deposit is require for this..
.
Workshops are filling up but there are still places on almost all of them...
Important Note all weekly oil classes are fully booked up due to demand, I have space for 1 more in my three watercolour classes
I'm also available for two hour or day workshops or demonstration in the East Midlands, further afield by arrangement, costs start from £180 for a demo and raises to £190 for Day demo / workshop plus travel payable based on return journeys further than 50 miles
Contact me on 01629 583359 or email ricardo2244@yahoo.co.uk for further details
Art Holidays for 2021, Wednesday and Thursday in September 2021 Dates to be announced
Contact Old House for further details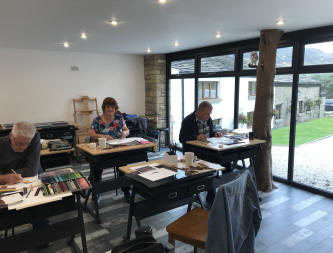 The Old House Studios Glossop Derbyshire
Contact info@pennine-art.uk for more info.